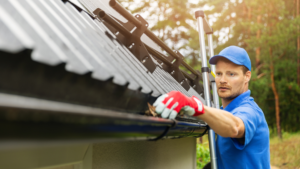 Hillsborough Gutter Cleaning
Kens Gutters clean gutters & roofs across the Hillsborough area.
We clear blocked downspouts & Gutters, and leave your roofs and gutters clean and clear when we finish.
Our work is carried out to the highest standards of safety and cleanliness, we take pride in what we do and aim for 100% customer satisfaction every time.
Call us now for an instant price for your roof and gutter cleaning.
On each and every job we clean leaves and debris from roofs
We brush clean all gutters and visualy inspect
We clear out and test all downspouts to ensure smooth running
We clean up all mess from the cleaning process
We provide a detailed report of any issues found,
We do not repair gutters nor are we affiliated with any gutter repairers or Installers, the advice we give is accurate, unbiased and there is no financial incentive for us to "find" problems that don't exist
We use ladder protectors and safe access equipment to protect your home and gutters from damage caused by access
Alafaya, Apopka, Bay Lake, Belle Isle, Bithlo, Christmas, Doctor Phillips, Eatonville, Edgewood, Fairway Shores, Goldenrod, Gotha, Hunter's Creek, Lake Buena Vista, Lockhart, Maitland, Meadow Woods, Oakland, Ocoee, Orlando Orlovista, Pine Castle, Pine Hills, Southchase, South Apopka, Taft, Tangerine, Union Park, Wedgefield, Williamsburg, Windermere, Winter Garden, Winter Park, Zellwood
Experienced
Our team has a combined 40 years experience in the industry
Reliable
You can trust us to deliver what we promise, in a quick and timely manner
Insured
Our staff, business, and work is fully insured for your peace of mind
Professional
Don't take our word for it, book now and see what all our clients have been raving about